Retail Price = P3,190.00
Online Price = P2,900.00

Contains 112 tablets per bottle.


GLOBE: +63(917)8724383
The
USANA® Essentials™
vitamin, mineral and antioxidant supplements for adults are a combination of two products: Mega Antioxidant™ (vitamin and antioxidant supplements) and Chelated Mineral™ (multimineral supplement). Together, they provide a broad spectrum of vitamins, minerals, and other plant nutrients that form the foundation of USANA nutritional system.
The
USANA® Essentials™
was scientifically researched and formulated to provide the optimum nutritional requirements for every adult in terms of the quantity and quality of every vitamins, minerals, and antioxidant components. In every intake you are guaranteed of more than 90% absorption rate and utilization of all the vitamins, minerals, and antioxidant components that will optimize your metabolism, strengthen your body's defenses, and provides adequate cellular nutrition resulting to improved well being as well as an active and healthy lifestyle.
Who can Benefit?
Every adult, to complement a healthy diet.
Why USANA® Essentials™?
Comprehensive
The Essentials supplements provide a wide range of vitamins and minerals as well as trace minerals, mixed carotenoids, bioflavonoids, and other plant nutrients and antioxidants.
Potent and Balanced
They supply a carefully balanced level of nutrients for optimal results.
Bioavailable
They use high-quality ingredients that are in forms the body can absorb and use.
Patented Olive Extract
They have the advantage of USANA® patented Olivol® olive-fruit extract that provides the nutritional benefits of the Mediterranean diet.
The USANA® Essentials™ is the basic foundation nutrition for every adult. It contains a broad range of vitamins, minerals, trace elements and phyto-nutrients that are essential for cellular health. Together, these nutrients provide an unmatched number of oxidation defense mechanisms.
USANA® Essentials™ Mega Antioxidant Nutritional Facts
Mega Antioxidant bottle contains 112 tablets.
USANA® Essentials™ Chelated Mineral Nutritional Facts
Chelated Mineral bottle contains 112 tablets.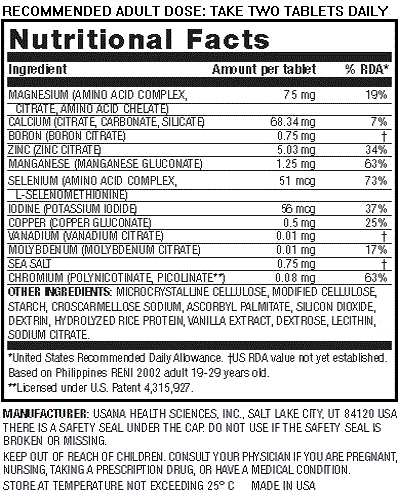 The USANA Essentials is the result of decades of research and experience by Dr Myron Wentz. It is the best-selling product in USANA, and widely trusted by people all over the world. Everyone should be on the USANA Essentials.
How to Use
Take two (2) tablets each of Mega Antioxidant and Chelated Mineral every day (morning and evening).
---
ORDERING INFORMATION
DELIVERY TIME
Since this item will originate in Metro Manila or in Metro Cebu depending on your location and delivery address, please expect that upon your purchase it will arrive within 1-2 business days to your designated delivery address and will be sent using LBC Express Padala courier service. Should there be some delays with the delivery you will be informed immediately and work with you in realtime for any possible solutions.
SHIPPING AND HANDLING
If you want this item shipped to other provincial addresses there is a PHP150.00 delivery surcharge. For your convenience a tracking number will then be provided after 24-48 hours of your purchase as soon as it becomes available in our system. We would require the following information to process your order: 1.) Recipient Full Name; 2.) Recipient Delivery Address; 3.) Recipient Contact Number, either cellphone or landline, in case there will be problems during the delivery of your package the courier service will have ease of communication.
PAYMENT METHODS
Only orders made with full payment will be processed. So to ensure for both the Buyer and Seller that all transactions will be secured and protected the following methods can be the acceptable form of payment:
| | |
| --- | --- |
| Bank of the Philippine Islands | LBC Pera Padala |
All orders will be processed and thoroughly reviewed. We have zero tolerance policy regarding fraudulent transactions.
Buy with confidence in our products.
GLOBE
: +63(917)8724383